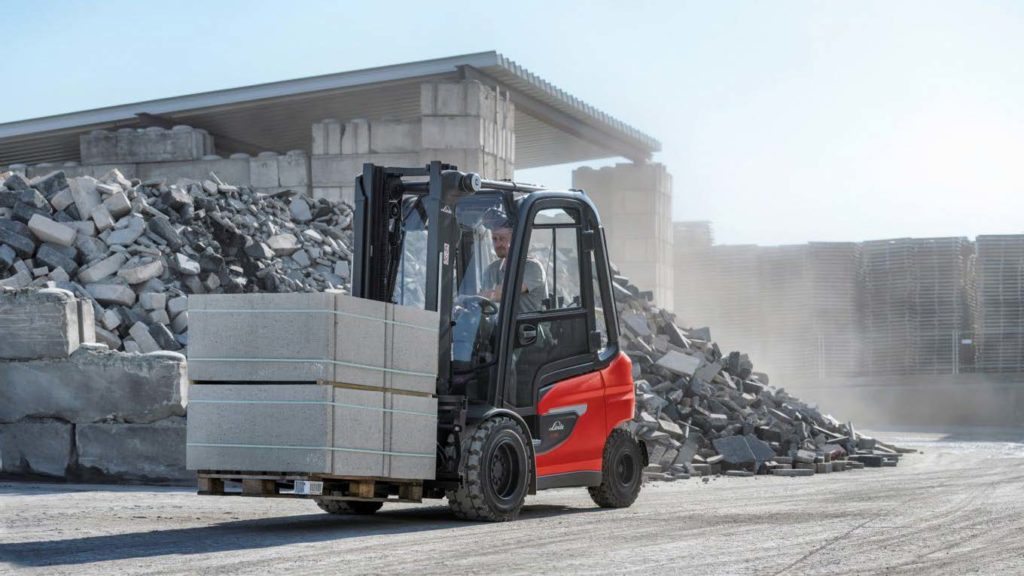 The continuous pursuit of excellence is the motivation behind each calculated design of Linde Material Handling trucks – pushing the limits on capabilities and functionalities to bring superior results as an industry leader should. This inspiration results in the Series 1252 Electric Counterbalance truck that breaks the mold on what you know about forklift trucks and bridges the gap between traditional internal combustion and electric trucks. Linde Material Handling brings extraordinary advantages and redefines agility with unsurpassed capabilities never seen before. Welcome to the best of both worlds, combining impeccable performance, sustainability, and an exceptional driving experience.
Maneuverability Redefined
Forklift maneuverability is vital in a busy warehouse and can be the difference between a thriving operation or a business barely meeting timelines. From navigating narrow aisles to maneuvering around sharp corners, you need equipment that will excel in your operation and maximize your throughput.
A Powerhouse Performer
The Linde Series 1252 is a powerhouse performer and delivers this capability with a compact design. The dual-motor front-drive enables maximum maneuverability by pushing beyond torque and power. The ingenuity of this design is the ability to spin the wheels in opposite directions that makes navigating tight areas possible. In addition, with the combi steering axle, the rear wheels can turn almost ninety degrees to the truck's longitudinal axis – forming a perfect circle when turning.
Like Driving on a Cloud
What's the use of phenomenal equipment, capable of doing so much, without a workstation that works in unison with the operator? The Linde Series 1252 offers unique capabilities, creating an optimal driving experience between man and machine. The driver's workstation is decoupled of vibrations and shocks for seamless transitions on uneven surfaces. In addition, the special bearing reduces the impact of shocks on the load and driver to support and protect while transporting products.
The spacious driver's cab is unlike any other workspace you'll find on a forklift truck. As you step onto the platform, you'll notice the ease of entry, including a handlebar with entry lighting, keeping the operator alert and aware of their surroundings. And with comforts rivaling luxury vehicles, the customizable features keep operators feeling like they're driving on clouds. For example, the Linde Series 1252 boasts adjustable seating that slides forward and back with an adjustable backrest for customized comfort. The armrest is also adjustable and slides back and forth to facilitate minimal movement with maximum performance. And the steering column can also be adapted for comfortable alignment. These adjustable components create an individual ergonomic triangle inside the compartment unlike anything available on the market.
There's no question that your operators are transporting products from the best seats in the house, with exceptional ergonomic capabilities to features that support your operators through long shifts. For example, by decoupling the chassis from the steering axle and mast, shocks transmitted to the driver are significantly reduced, including when traveling over uneven surfaces. This complete decoupling concept keeps your operators alert, comfortable, and less strained by providing an incomparable driving experience. Strain is also minimal with the offset steering wheel that requires minimal shoulder movements to decrease risks of repetitive use injuries.
Unparalleled Confidence
Unobstructed vision is key to keeping your operators confident and productive. The chassis, front overhead guard pillars, a narrow profile mast, and open roof construction provide the driver with optimum visibility of their load and surroundings. An additional measure of assurance is a particularly low center of gravity that feels more stable while driving in a variety of conditions. Additionally, Linde Curve Assist automatically reduces traction speed in relation to the steering angle when cornering.
Staying Prepared
Being prepared for potential downtime is vital for a busy operation, and planning can keep your business moving. Truck health monitoring enables comprehensive fault monitoring and faster fault identification. Wear and damage is more recognizable and helps to prevent unexpected downtime. In addition, the driver's display shows all of the critical truck information and provides up-to-date diagnostics. Remote fault diagnosis and firmware updates can be conducted without a service technician, resulting in lower operating costs. Consequently, modular assemblies allow for a quick replacement, which shortens downtime during repairs if they are needed.
For more information, a demo or quote on a new Linde 1202, please contact us at 631-661-7345.